I just finished my first table runner this week, along with a tutorial for binding on the Simply Notable side of the house. I  have been so busy with those posts that I almost forgot what this weekend was… I was invited to a "Sewing Saturday" get together with some ladies from my neighborhood. Evidently they have been getting together for sew parties for a while, but they just started working on a Radio Way pattern the last time they got together. I was happy to join!
I'm no stranger to Radio Way or to Jaybird Quilts. I have been following Julie Herman on Facebook and Pinterest for over a year. I'm a fan of many of her patterns. In fact, I currently have a baby boy circle quilt in my Etsy store from her Dot Party pattern.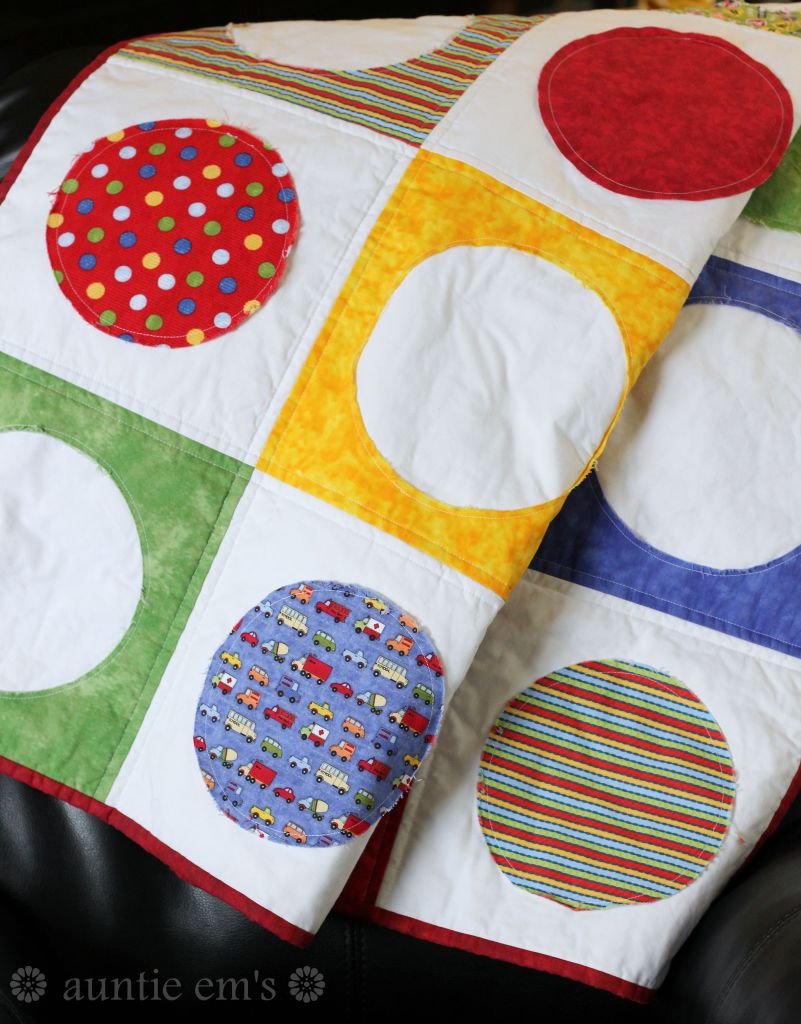 And, last December I sold a yellow and gray Radio Way baby quilt on Etsy. You may recognize the fabrics from the last yellow and gray quilt I recently finished.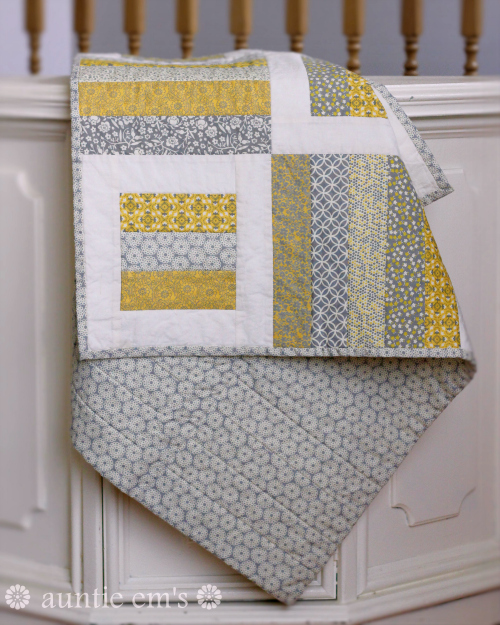 I feel like I'm in a rush to get my quilt blocks made for the Sewing Saturday since many of the women will already be sewing their blocks together by then. I went through my stash of keeper fabric to see what I could work with. My keeper fabric is the stuff I leave off Etsy. I like it so much I hoard it for a year or five before I ever use it for anything; mostly because I am a better project starter than a project finisher.

I like to think that one day I'll get around to using everything in my keeper stash. Not likely, but maybe. At least this week I was able to pull out one of my pre-cut bundles of Willow, a retired organic cotton collection from Riley Blake. Since the pattern calls for 10″ strips, the layer cake was a good choice, although fat quarters and jelly rolls work fine for the pattern as well. I love to work with pre-cuts since you get a little of every fabric in a collection. They take the guess work out of matching fabric, which has always been a struggle for me.
Anyway, I purchased the Willow charms and layer cakes from my friend Paula at Compelled to Craft. Since the fabric has been discontinued for a few years, finding fabric to match required a little research. I found another Etsy shop in Utah who was willing to trade some yardage for some Andrea Victoria prints I had in stock. Yay for trading!
Cutting the fabric for the Radio Way quilt was a cinch. I have only used layer cakes twice, but both times I have stacked three fabrics at a time then made the cuts. Cutting more than one square at once will save you a lot of time.
I got my fabric all cut on Thursday night, and began sewing on Friday. I was happy to make a decent amount of progress before Sewing Saturday and at the event. After about 5 hours of cutting and sewing, my blocks are all complete! I've been trying to decide on a quilting design for it, but haven't come up with anything yet. Hopefully I will have this beauty done for the Baby and Toddler Expo in Provo next month. Fingers crossed!
If you are interested in the quilt, it will be available for pre-order, just email me! auntieemscrafts@gmail.com.
Sorry, the fabric is so muted that it was difficult to photograph!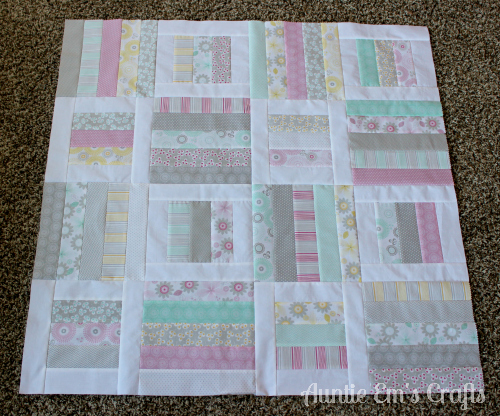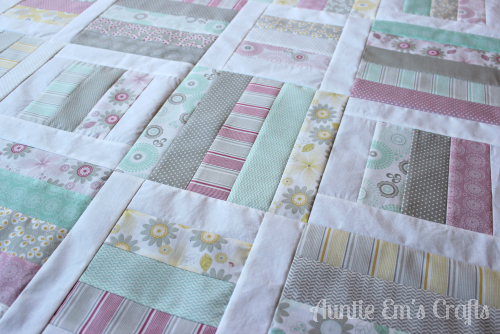 If you have a completed Radio Way, I would love to see pictures for quilting ideas via Pinterest. You can find me there as Auntie Em's Crafts.

UPDATE: Here is the completed Willow Radio Way quilt. I stitched between blocks and used a minky dot backing.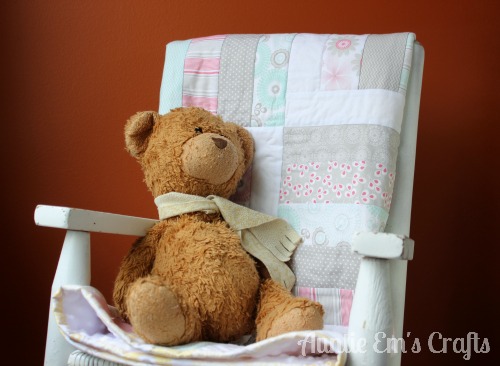 Auntie Em