During a three week visit to Illinois, a long-time friend asked for help making a timeless quilt for her daughter's bed. She saw a rainbow pinwheel quilt on Pinterest and fell in love with it. Since the photo originated from a person's flickr account, I was going to have to figure up how much fabric to buy, how big to make the blocks, and how many rows/columns we would need to make the quilt top. With a little help of some paper and my son's crayons, I drew up a quick sketch of what her quilt would look like. Please don't mind my messy doodling, I was in a hurry before we left for the fabric store! I prefer to use graph paper and colored pencils when designing a quilt 🙂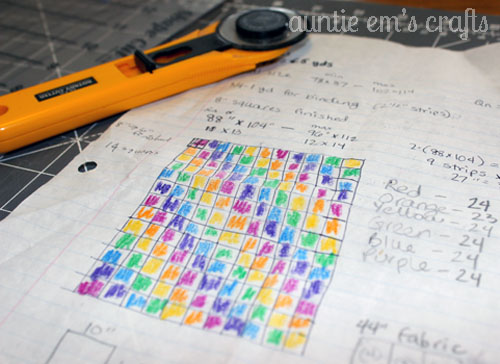 To make this quilt, she needed 1 yard of each color and 5.5 yards of white. After washing, I cut all of the fabric into 10.5″ strips, and then into 10.5″squares. ( I cut hers at 10.5″ to give her some wiggle room, but 10″ squares is the norm for making 4″ finished half square triangles). We used 4″ Triangles on a Roll to make 8 half square triangles at a time. The blocks were squared up to 8″ after being sewn into pinwheels.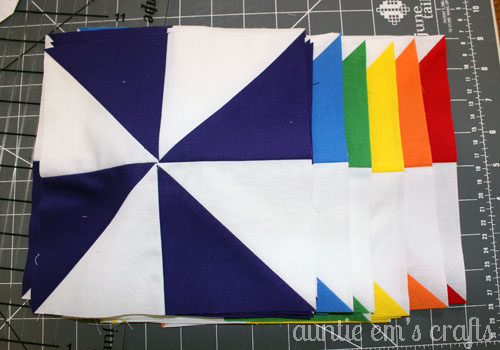 I showed Tiffany how to perform each step along the way but had her do most of the sewing.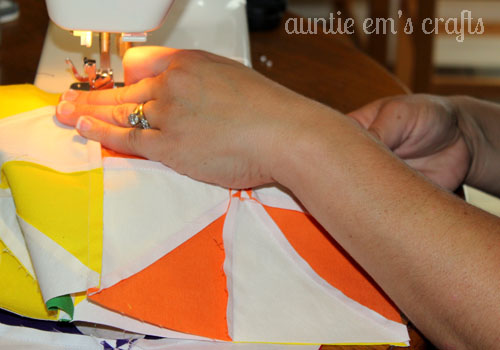 We laid blocks out on the floor and began sewing them together in a 4 patch fashion. I prefer this method over sewing whole rows of blocks together. Unfortunately, we were only able to get about 20% of the blocks sewn together before we had to call it a day. I really look forward to seeing the finished product in person.
Tiffany's quilt is laid out in an 11×13 block setting. It should measure 82.5″ wide and 97.5″ long when complete. It will be perfect for her daughter's full size bed.
You can easily make this quilt in another size. Take a look at my Quilt Size Charts to find out the min and max sizes for your project. Multiply 7.5″ (the size of the finished blocks) by a number of rows/columns to see if it fits in the min/max range. For example, a stroller quilt could be a 4×5 block setting to yield a 30″x37.5″ quilt.
This is the beautiful inspiration quilt, which was made by Blueberrymoon.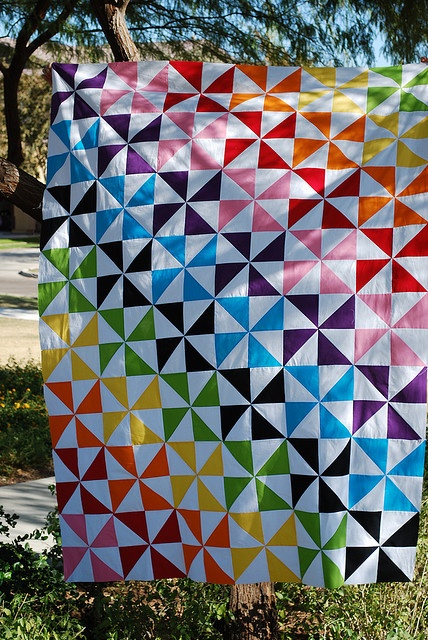 I redrew the quilt  on graph paper to better show what Tiffany's quilt will look like.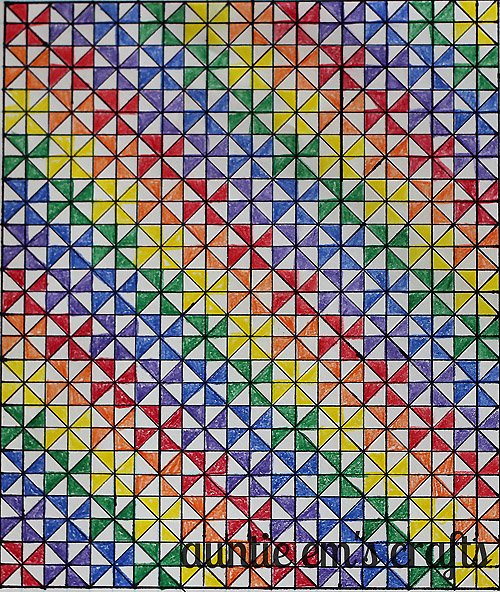 You can download this project photo by clicking here.
Here is her finished quilt, just one row shy of the drawing.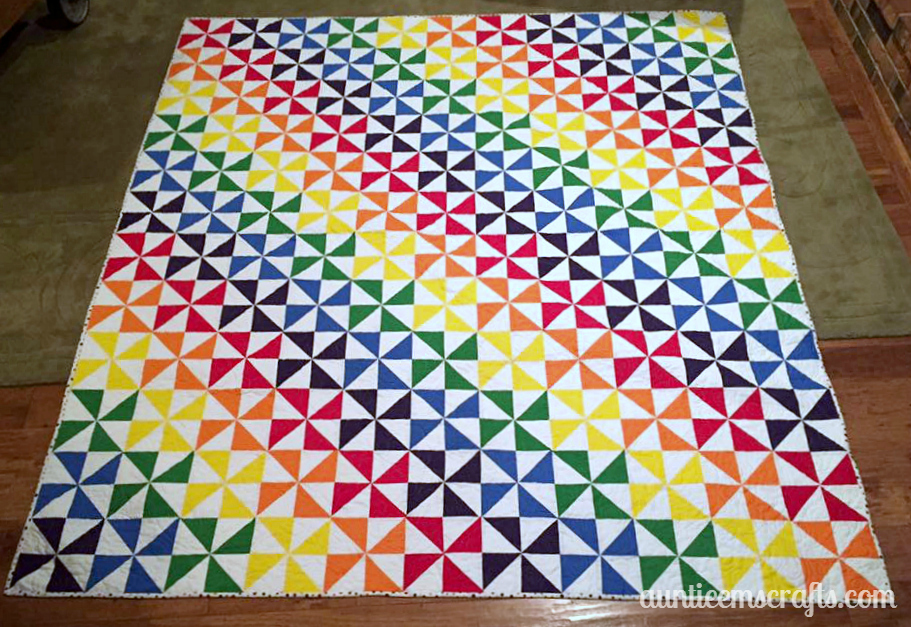 Helping Tiffany with her daughter's quilt really got my gears turning about making a rainbow baby quilt in the near future. I created a Rainbow Quilts board on Pinterest to help me keep track of some good ideas. If you see pretty ones, feel free to send the pin my way to help me make up my mind!
Auntie Em