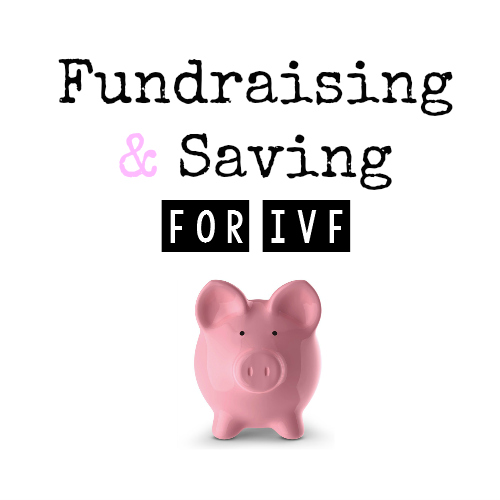 Before a person can begins IVF treatment, all costs have to be paid upfront. That's a scary thought. I don't know many (if any) people who have an extra $12,000-30,000 laying around! Depending on what medications the Veteran's Affairs will cover for me, I estimate our procedure will cost $15,000.
There are medical loans available In-Vitro Fertilization and Adoption. The interest rate for the loans are around 7.25%. Our credit cards have even higher interest rates than that, plus the IVF center charges a fee for using a credit card. I'd really prefer to not go into debt for this to work. We will save and fund-raise until enough money has been saved for the procedure.
Crowd funding websites are available to help people quickly raise money. Although GiveForward.com was primarily for medical expenses, I felt that GoFundMe.com had a better website design. When I go there, I can type in my zip code and see all of the fundraisers near me. I can also view fundraisers that my Facebook friends have set up or have given to. Both websites had a fee of about 7.9% when it's all said and done. It's a bummer that the fees are so high, but for the ease of our friends across the US to be able to give it is worth it in my opinion. Here is the direct link to our fundraiser page: http://www.gofundme.com/tarshababy
I set a goal to raise $10,000. That seems high, but I think I can do it. I have been in charge of dozens of fundraisers while in the military, and have helped with several medical fundraisers for my family members. I plan on putting my income from craft sales towards the fundraiser until the end of the year. I have been creating chevron and ruler growth charts to sell at the local craft shows and on my neighborhood yard sale group on Facebook. I refinished a dresser for someone I met on another Facebook yard sale group. I may end up repainting her coffee table in a few weeks as well.
In addition to raising money, I will also do some research about how we can save money with our regular expenses. For example, I know our car insurance went up a lot after moving to Utah. We've been with USAA for many years now, but I'm going to look into other companies that can save us some money. If anything, I can raise our deductibles and explore other cost-saving changes to stay with USAA.
Every bit helps. I'm going to make sure the money gets set aside at home or put into my IVF Savings Account. I'm not afraid to work my tail off to make this happen. My next craft show is on November 21st and 22nd. Between now and then I'll be working on some new Christmas crafts to sell. I'll also be doing a purge of my son's room and other rooms to get things listed on the yard sale group. My goal is to have another $350 raised on my own before my next update, planned for the end of November. I realize that with Christmas coming people may be hesitant to give so I have high hopes for the next craft show.
To help me keep track, I've added a thermometer widget to my sidebar to keep track of fundraiser earnings. I set the bar at the $10,000 GoFundMe goal since we already have some money in savings to cover the rest.
I am aiming for April 2015 to have the ready to schedule our procedure. Wish us luck!!
Earnings so far:
$45- Dresser redo
$61.50 – Online Sales