Last weekend I attended a Baby & Toddler Expo as a vendor. I was excited to attend a local fair as a way to get my name out there and hopefully make some good sales. I thought it would be a great place to sell my baby quilts and accessories. The sales, really, could have been much better but there was no way to predict that. What I really had not considered was the sheer amount of newborn babies and pregnant women that would pass my table.
At first, it was like any other vendor fair I had attended. Great at first, but once sales started to slow down I had more time to look around and experience what the show had to offer. That's when I really started noticing the babies and soon to be mommies.
I tried to not let it get to me. I tried to let it go. I didn't let anyone see the jealousy that I was hiding inside. By the time the show was over, I was ready to make a mad dash for home. My hour long drive home gave me a lot of time to think. You see, this time last year I was undergoing treatment for infertility via medication and artificial insemination. After four failed procedures we learned that the cause was male factor infertility and that IVF was our best option for a baby.
We met with my VA doctor in January to discuss the procedure. She happens to also be a Reproductive Endocrinologist for the University of Utah Center for Reproductive Medicine. Our appointment left me with sticker shock, feelings of helplessness, and an overall fear of the invasive procedures that IVF entails.
With a lack of medical insurance coverage for IVF through my husband's work, and my inability to return to full time employment, we put the procedure on the back burner.
Just two days ago at another vendor fair, my friend (an adoptive parent) and I were discussing a video she recently posted on Facebook about a boy who died at the age of 18 after having never been adopted. The video led us into further discussions about adoption with the lady running the booth next to us. A customer walking by overheard us talking and joined in the conversation. She was baby-wearing a tiny little bundle of joy. She adopted that baby girl about a month prior.
This stranger talked to me for over 30 minutes about local agencies, things to consider, etc. She provided me with a lot of great information. Until watching my friend's video a few days ago, I hadn't given adoption much thought. This new knowledge really got my gears turning.
I've done a little research on the local agencies and overall cost of adoption since then. From the looks of it, adoption is way out of reach right now with the price tag of $28,000-40,000. It's unbelievable to me that it costs that much to bring a child into your home. It sure makes the IVF procedure seem like a fantastic deal, with a cost around $12,000-15,000.
The fear of the procedure has been replaced with an overwhelming desire for a baby. I feel like this won't go away. Maybe it will, but I don't know if I want it to. I think now is the time. It's time for us to get real and get fundraising to make this happen.
I hope you don't mind me sharing what has been weighing on my heart. Sometimes you just need to get some things off your chest. If you have ever experienced infertility or "baby fever", you already know what I'm feeling. I don't want to cry about it anymore until my tears can be tears of joy. Consider the fire lit. One way or another, I need to make it happen.

Here is a recent picture of my family. My son Connor just turned seven. I would sure love to give him a baby sister. Hopefully one day.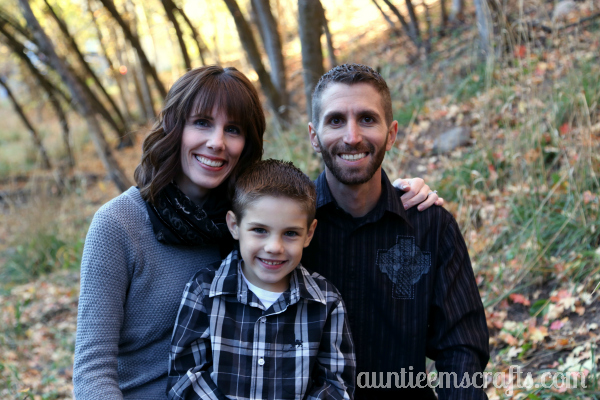 Auntie Em