My mom recently came to visit me in Utah. While she was here we started working on a quilt for my baby boy. I cut, she sewed, and within a few hours the quilt top was done!
This was one the first projects I used my Design Wall for.  I was able to move around the blocks until I liked the variety in color placement. It was a wonderful addition to my craft room (and perfect sized for a baby quilt)!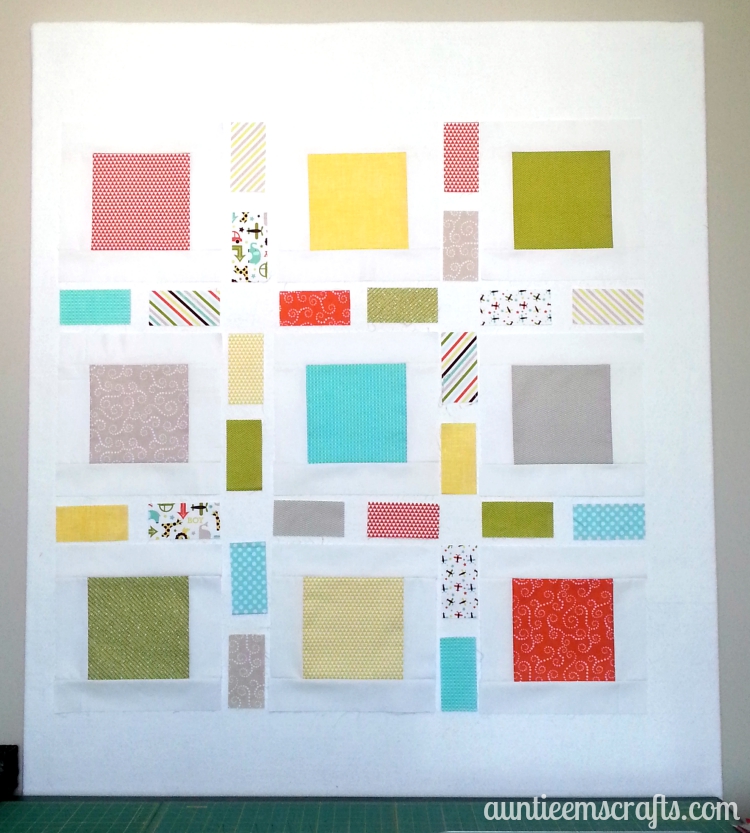 Once we decided to stick with the fabric placement, the quilt went together very quickly. The pattern is a small version of "Framed" by Camille Roskelley from her book Simply Retro. I love this book and I love the pattern even more. I made a baby girl quilt with this pattern last summer with Riley Blake Lovey Dovey fabric.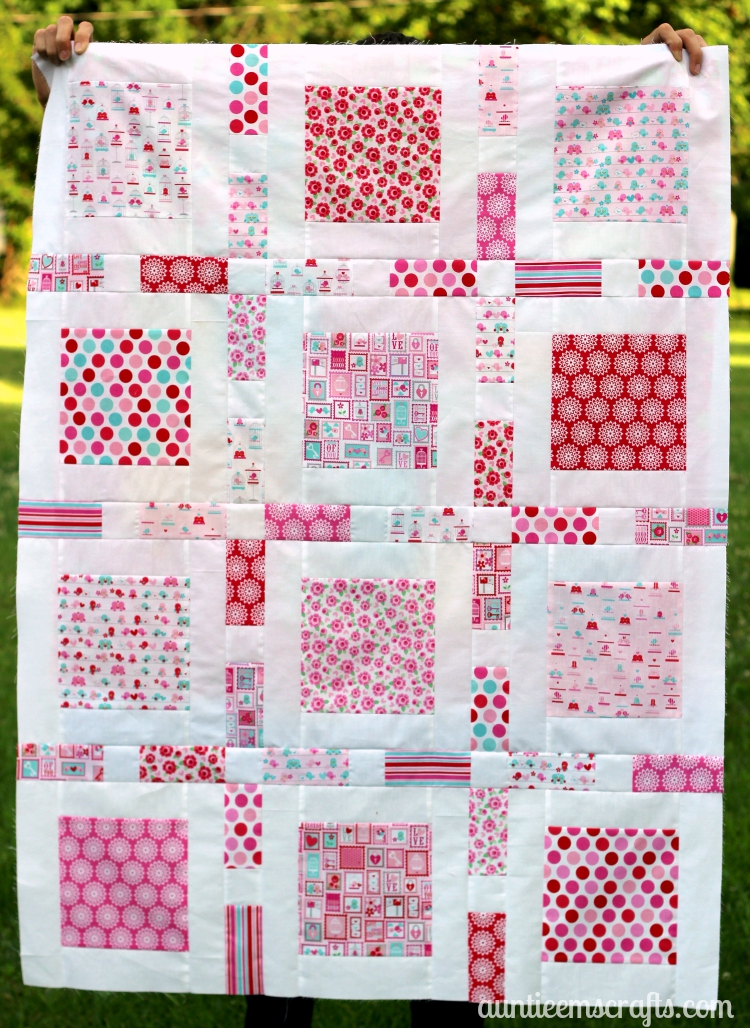 The modern style would look great with many fabrics. This time I wanted the Oh Boy fabric line from Riley Blake. The colors were a perfect style for my baby's room. The only problem was that the fabric line only had a few prints in there so we mixed in some other fabrics from my stash to blend in. We didn't end up finding enough mixers to make it a 3 x 4 setting like the Lovey Dovey quilt, so we decided to make it a 3×3 and add a border. The finished size is about 45″ square, so still plenty big for a baby quilt.
Here it is just before dropping it off with Mindy Powell of Quilting Together With Mindy.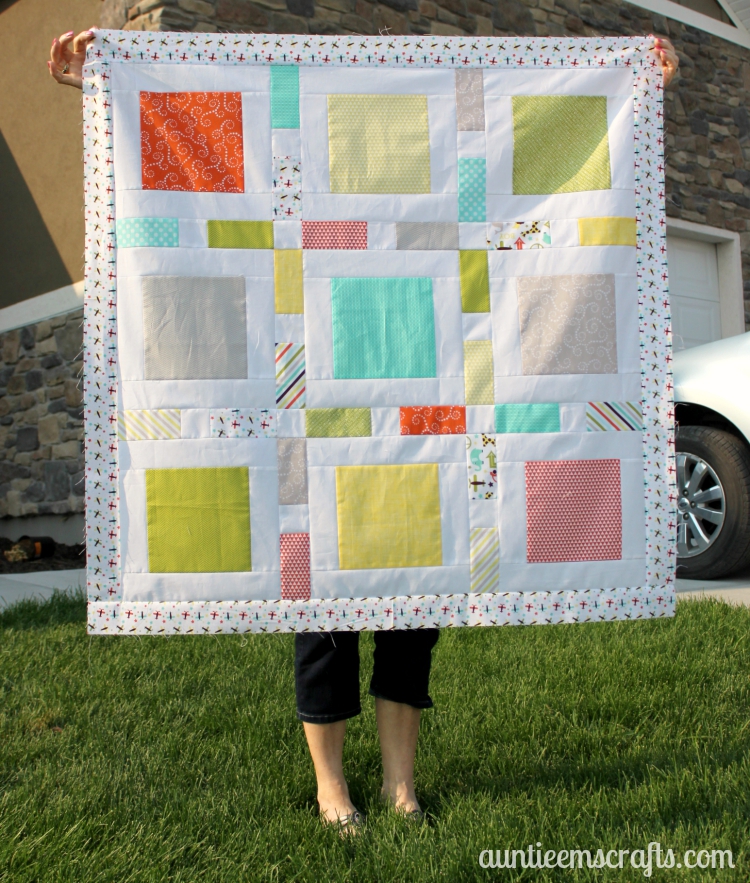 I want to have an airplane theme with these colors in my son's room since my husband and I are both Air Force Veterans. I thought an airplane and some loops would be a great quilting design for this quilt but I couldn't find one online that I liked. Mindy was able to enlarge the airplane from the fabrics and create a digital design for me. It was perfect!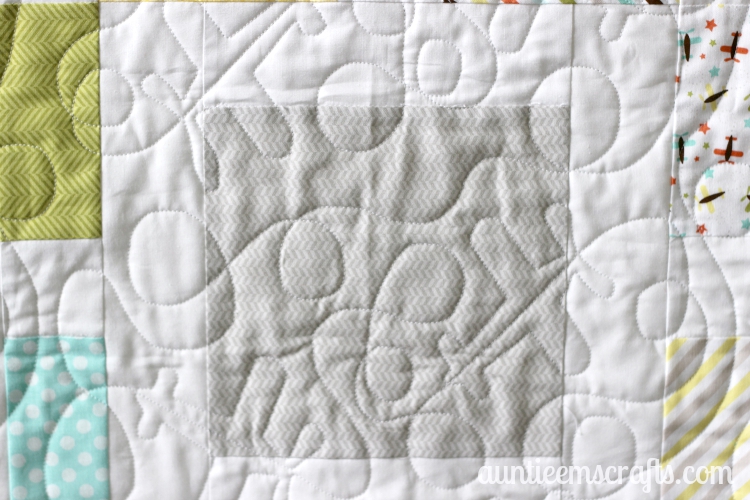 I used the stripes from Oh Boy as my binding. It was the first time I have used a striped binding and I am sure it will not be the last. After two and a half hours of hand stitching the binding, here I am proudly displaying the quilt. I LOVE it! Great job Mom and Mindy!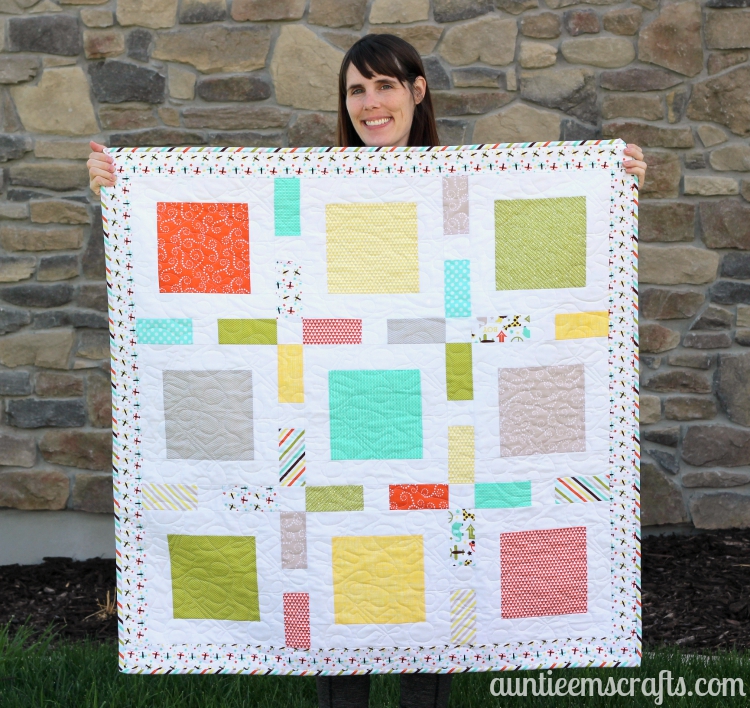 The colors look great in my son's room, especially with his gray crib. I hope he loves his first quilt as much as I do!