I have been browsing Pinterest lately for handmade ornament ideas. I found these adorable gingham stars by A Spoonful of Sugar and knew I had to make a few for my tree.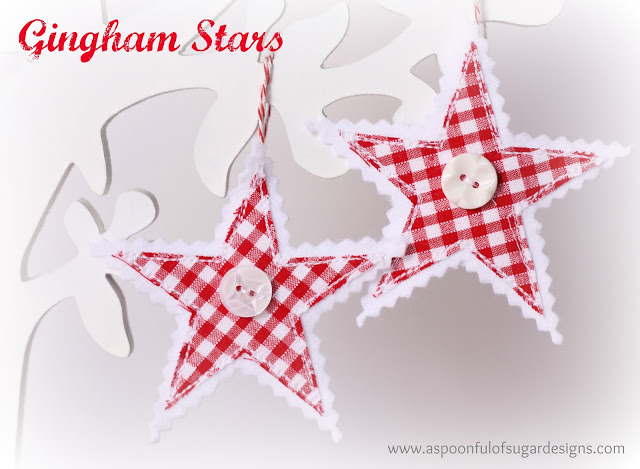 Photo copyright A Spoonful of Sugar Designs.
Here are my finished stars! I made three of each color.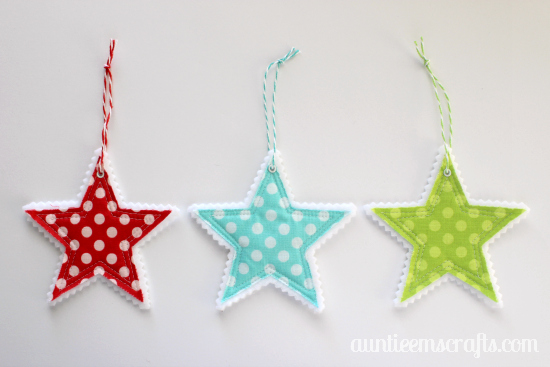 A few things I did differently:
– Some were made with two layers of felt to make them more stiff. I joined the layers together with basting spray before sewing. The remaining stars were made with a different felt that was more stiff.
– I used a plastic scrapbook stencil as my template so my finished stars are about 4″ tall.
– I used my zipper foot to sew about 1/8″ away from the edge, then I moved the needle about 1/4″ to the left to sew a second line to give them a more quilted look.
– I used my Crop-A-Dile II tool to punch a 1/8″ hole in the top of the stars and to add a small eyelet. I then threaded it with an 8″ piece of coordinating baker's twine.
– I used Riley Blake Sweet Dot fabrics in aqua, red, and green for my stars, to match  my upcycled fabric ornaments and yarn ball ornaments.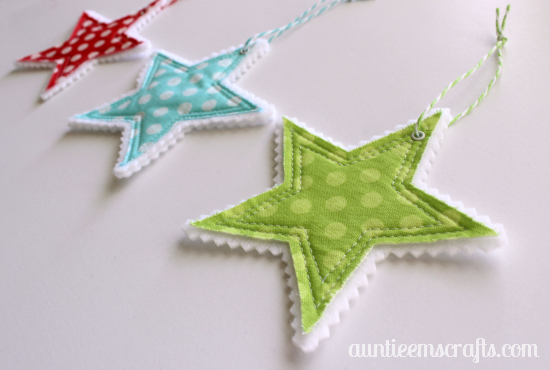 I love that their stars have buttons on them, but I'm not a huge fan of sewing on buttons. I still have a lot of handmade ornaments to make this year, so maybe I will add the buttons next year. Check out A Spoonful of Sugar's tutorial if you need help making your own star ornaments. These come together quickly and will look great on your tree!