My mom and mother in law both flew into Salt Lake City for the birth of my son last month. Believe it or not, we had some free time on our hands so we decided to share our crafty knowledge with each other. My mother in law is one of four of us that blog with SimplyNotable.com. She provides the site with knitting and crochet patterns. She showed my mom how to knit a washcloth and me how to crochet a teething biscuit.
My mom has been a quilter for about 20 years and taught me everything I know about sewing. She showed Julie and me how to paper piece, something that she's wanted to show me for years but we haven't gotten around to it since I moved out of state. We found a great variety of patterns for paper piecing on Pinterest. The pattern I chose to make is a Circle of Geese from PieceByNumber.com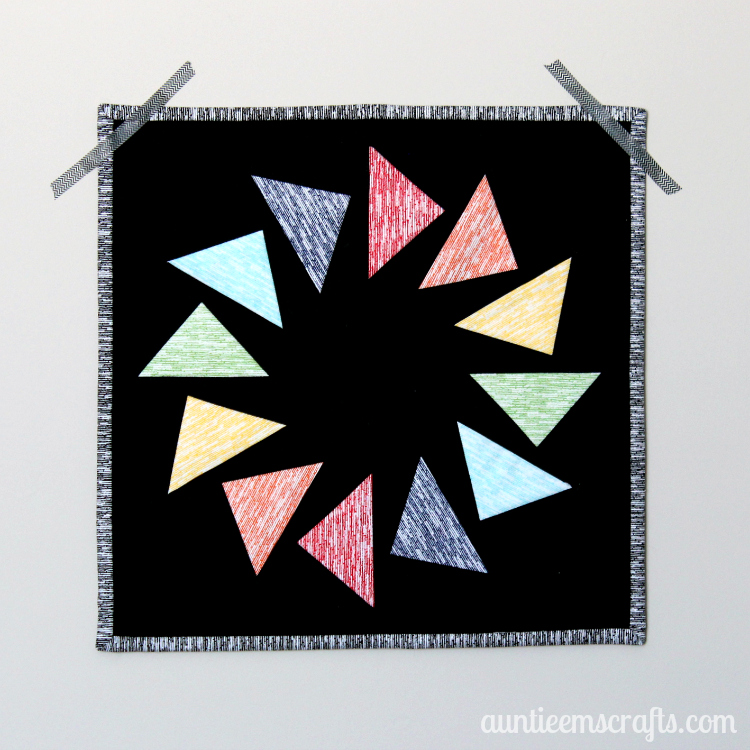 I found the pattern to be a bit difficult for my first try, mainly for two reasons. First, I chose a black background so that the colors would really stand out. This made it difficult to see the fabric behind the paper. I found it helpful to hold the paper up with a window in the background to act as a lightbox. Second, I wanted the lines in my fabrics to stack vertically with the shape of the triangle. I had to rip out my seams several times because I didn't feel like the lines were straight enough. A little particular, I know. Not fussy cutting the fabric would have made assembly much easier. My fabrics were Licorice (black) and Shuffle, all from Riley Blake. 
I looked all over Pinterest for suggestions on how to quilt this. I decided to keep it simple and quilt just outside each triangle.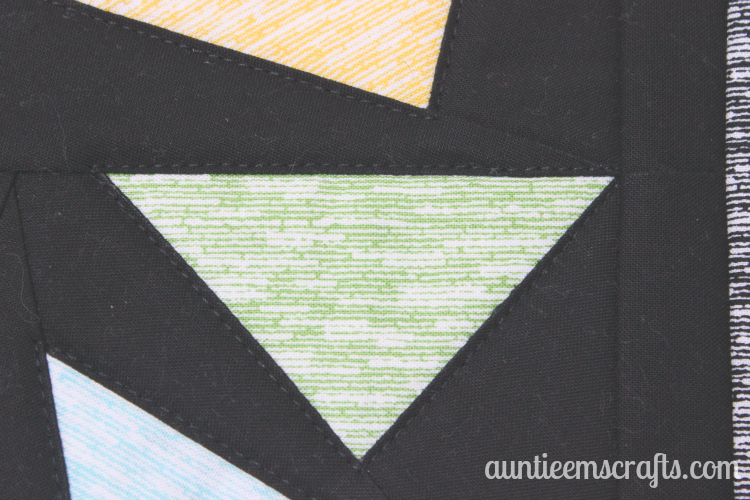 With a lighter background and random designs on the fabric would make this an easier project, one that I would try again. Maybe next time I would give it a go with batiks. Even though it was challenging, I am in love with the final product. I finally got it hung up on my way of minis, right in front of my machine.  I am glad that I finally gave paper piecing a try.