With October being National Breast Cancer Awareness Month, I thought it would be a good time to share some information in regards to chemo quilts.
I have been thinking about writing this post for a few months, ever since I created a chart for determining quilt sizes. I wanted to know first hand from someone who has been through cancer treatment on what would make a good blanket/quilt to take to chemo appointments. So without further ado, this information is brought to you by my cousin, Donna, who is in remission.
Quilt size- For adults about 44-48″ wide by 68-72″ long. You want the quilt to be large enough to tuck under their feet and go up to their neck. Chemotherapy treatments take place in a reclining chair so you do not want the quilt to be too wide or long that it touches the ground.
Quilt materials- Cancer patients are often very cold while going through treatment. Minky or cuddle fabrics would be a great backing to provide the patient with warmth and comfort. Use a quality batting, such as Warm & Natural. Any punched cotton batting will hold up well. If you want to make a fleece blanket instead of a quilt, two layers sewn together at the binding will help retain the heat and provide extra weight.
Fabric selection- You may ask the patient what their favorite colors are or favorite sports team before picking out the fabric. You should use quality fabrics so they withstand the washings.
Patterns- Since you will likely be limited on time to get a quilt done, you will probably want to go with a simple pattern. I have a board on Pinterest for quilts made with pre-cut fabrics. By pre-cut, I generally mean charm squares and layer cakes but sometimes also fat quarters. Using pre-cuts will give a nice variety of a fabric collection and will also save you lots of time cutting. Since you do not wash pre-cuts until the project is completed, you will also save time washing and ironing the fabric.

Durability- The quilts will go through many washings during treatment. It needs to be able to be washed in hot water in order for it to be sanitized. Avoid using red colors, which may bleed, or dark colors such as black and dark blue which may fade after multiple washings.  Use a color catcher or dye fixative such as Retayne to keep the colors from bleeding. The quilts should be quilted with tight pattern, no more than a few inches in between. Tied quilts will likely not hold up with the multiple washings.
Cancer Ribbons- Some breast cancer patients want nothing to do with pink, pink ribbons, angels, or anything that is a reminder to them as to what they are going though. As for my cousin,  the pink ribbon was a symbol of strength and hope.  If you are unsure, ask the patient how they feel about it before buying the materials. Here is a long list of awareness ribbon colors and their meanings.
Personalization- Sometimes there isn't a lot of notice before someone we know starts cancer treatment. You may want to get a quilt done quickly so that it can be gifted to the patient before treatments begin. However, if you have a little bit of time before giving the gift, you may create a memory quilt and have friends and family members sign the quilt with inspiring messages.  As for my cousin's blanket, she had it embroidered with her name. She added: "May the names woven into these fibers give you strength when you are weak, courage to face your fears and comfort when you are afraid". Her blanket is in the hands of another cancer patient now, and will continue have more names embroidered on it.
Transporting the quilt– Having a bag that the quilt will fit in is helpful.  The bag should be big enough to carry all of their supplies for a 6-ish hour treatment.
What other gifts can you make for a cancer patient?

Comfortable pillows are a nice gift. You can personalize a standard pillowcase with applique, or even make your own. I recently made a pillowcase for the All People Quilt Million Pillowcase Challenge. It was really easy to make using a "burrito" method. The fabric colors weren't my favorite, but it was donated by the quilt shop where I made it. You can find a good selection of free pillowcase patterns here.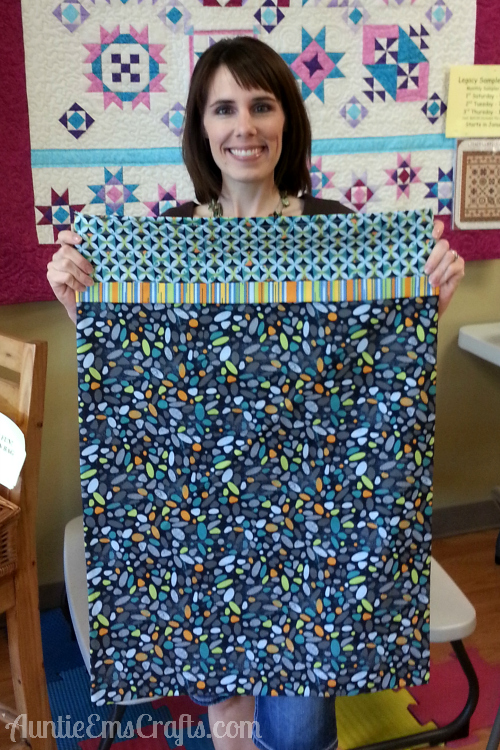 (Terrible picture, I know. I didn't realize this until I got home so this was all I had.)
A pillow placed around the diagonal part of the seat belt would be helpful to cushion the port-a-cath while in the car. A port-a-cath delivers chemo directly into the main artery so the area is very tender with pressure. A seat belt pillow would also make a nice gift for someone who is having open heart surgery. There are many tutorials for seat belt pillows on Pinterest. The important thing is that the pillow protects the port or scar from chafing/rubbing from the seat belt.  If you are not the sewing type, you can order completed comfort pillow online. I especially like the pillows made by BlessYourHeartPillows.com.

I found this great article that talks about 10 different types of pillows for cancer patients.  The pillows range from underarm pillows, seat belt pillows, lumbar supports, and more.  The types of pillows needed can vary from type of cancer treatment. For example, this diy heart shaped pillow would work nicely for someone who had a lymph node removed in the arm pit.
This wheat berry and lavender neck pillow can be heated up in the microwave to provide warmth to achy muscles. You could also make it into a smaller size to use as an eye pillow.
Warm slippers or slipper socks. If you are a knitter, my mother in law has made several patterns for socks. She made these Turkish Bed Socks as gifts for us for Christmas one year and we all love how warm they are.
Scarves and hats during fall and winter months are a must. The chemicals in chemo are notorious for causing hair loss. Knots of Love offers free crochet and knit patterns for hats and headbands to help keep the patient's head warm.

So many people are affected by cancer each year that each of you likely knows someone who is in the midst of their battle right now. Even if you aren't a quilter, there are gifts you can buy to help someone feel more comfortable during their treatments. According to Donna, a well stocked treatment bag will include a warm blanket or quilt, books/ebook reader, personal music player such as a phone or mp3 player, healthy snacks and drinks, a journal, a hat, warm socks or slippers, and some form of comfort pillow.
I hope this information will help you in providing comfort to someone who needs it.
Auntie Em