A friend from the neighborhood Sewing Saturday group came by a few weeks ago to buy some fabric. She looked around in my sewing room and fabric storage room and asked "Do you ever get tired of sewing?" I laughed and told her "Of course not!"
After giving it more thought, I suppose that statement isn't entirely true. There are times when I am preparing for a Farmer's Market or Vendor Fair when I am feeling rushed to get things done. Sometimes I get a neck ache, migraines, eye strain, or just overall fatigue. I also get this around Christmas time when I'm frantically trying to finish up handmade gifts. It is at those times (and usually only those times) where I do get tired of sewing.
So to keep from getting burned out, I set goals and limits for myself.
This worked particularly well for the Baby and Toddler Expo I went to in mid October. Since it was the first big show I had to do by myself, I made a craft show to do list. I set a desired quantity next to each item, as well as the number that I already had finished. Once I hit my finished quantity goal for each item, I forced myself to move on to a new item. (My chicken scratch isn't pretty, but it did the job.)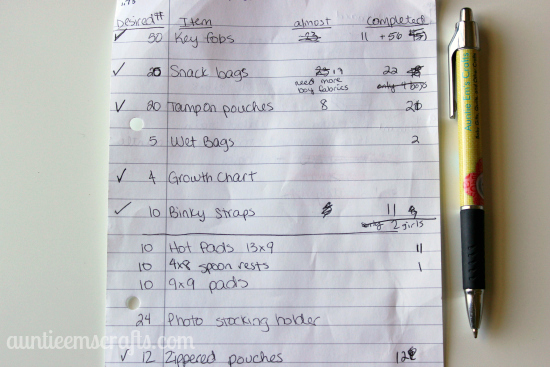 Some things I enjoy working on more than others, which is probably true for most crafters. Making to do lists not only keeps me from making too many of one item (usually diaper straps), it also prevents me from disliking sewing that item. I've also found that these lists aids me in my crafting ADD. I tend to want to sew this, and that, and then SQUIRREL!  Because of this, I tend to have piles of unfinished objects (UFOs) all over my craft room, on my ironing board, on my cutting mat, etc. Writing down my goals helps me to knock out one pile at a time, which in turn gives me a great feeling of accomplishment.
My goals may vary from show to show, or month to month. Lately, I've been focusing more on Christmas crafts and stocking stuffers. Last month, I focused on baby things and finishing quilts for the Baby and Toddler Expo.
Some goals I set are pretty regular. For example, I plan to sew at least three days a week. I also plan to create at least $50 worth of merchandise at lease three days a week. If I end up doing more than that, even better, but that is my minimum goal.
I've created a pdf document to help me track my goals better than the messy handwritten one. You can download it by clicking here, or by going to my Printables section at the top of my blog. Be sure to print it in landscape mode.
I like to write my quantity completed in pencil so that I can easily make changes.  This really helps me to stay focused.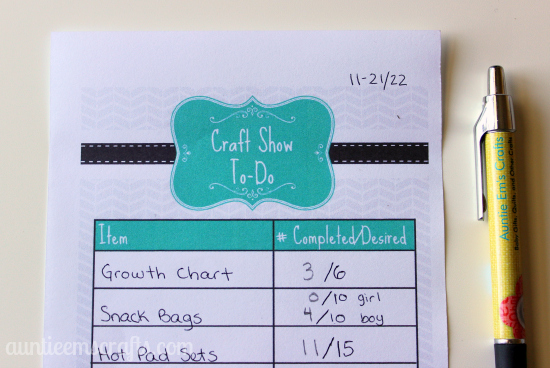 One last word of encouragement: focus on the things you can control. How much you finish before a show is in your control. How well you do at a craft show is out of your control. You don't know how well the venue advertised. You don't know what the people are planning on shopping for. I would like to sell at least $400 at each show I attend, but that doesn't happen every time. Instead of getting upset over it, I will focus my attention on finishing my UFOs and getting things listed on Etsy.

I hope you find this information useful for your own crafting endeavors. What kind of crafting goals do you set for yourself?